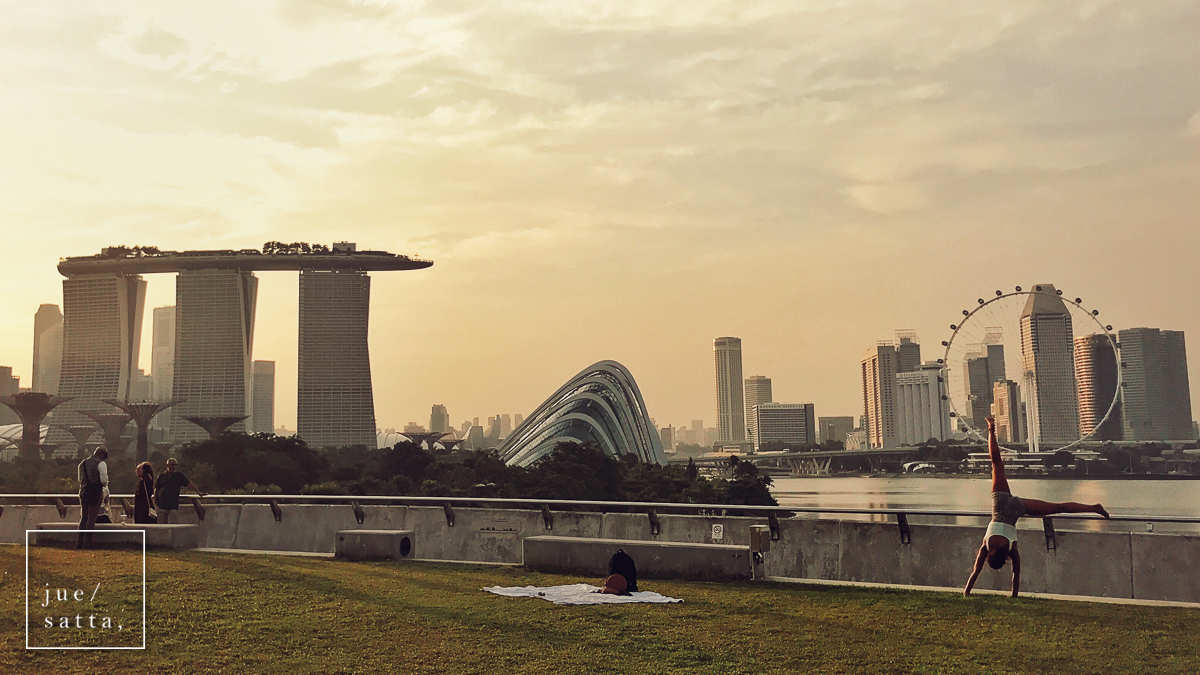 Mid of October, during my visit to Singapore for meeting with clients for upcoming wedding assignment, we had a chance to visit to Marina Barrage for the first time.
Henry, my childhood friend traveled together and we then met up with our good friend, Koh Yiaw who works in Singapore. He was generous to bring us around in Singapore.
After meeting up with my clients, we told Koh Yiaw that we had not been to Marina Barrage and Gardens by the Bay, although we had been to Singapore for so many times.
The afternoon in Singapore was warm and windy, a fine day for outdoor activities. While waiting for the Big Trees of the Gardens by the Bay to light up in the evening, we drove to Marina Barrage which is next to the it within 5-10 minutes walking distance, to spend the afternoon before the sun set.
The Marina Barrage is a dam built across the mouth of Marina Channel, to help alleviating floods of same areas and supplying water. On top of that, the facility is further utilized by providing a rooftop park for recreational activities.
Koh Yiaw showed us around the dam and brought us to the rooftop park. There were people there hanging out with friends, picnic, kite-surfing, exercising, drone flying, and some even lying on the grass for sun-bathing.
Later afternoon, as sun was going to set, the crowd started to come in, with groups of tourists, prewedding shooting couples, landscape and cityscape photographers, evening yoga lovers and so on. It was the best time to have the view of sunset over Singapore city with Marina Bay Sands in silhouette.
We could see Big Trees of Gardens by the Bay, the gigantic artificial trees were lighted up after the sun set. We then left Marina Barrage and headed for the Big Trees before the sky turned completely dark.
The parking of Gardens by the Bay was full and cars were queuing for parking spaces. We did a quick stop to get close to the Big Trees near the ticketing counters, to experience how gigantic the lighted trees. Before the sky went dark, photographing the lighted trees with the colorful sky as backdrop can be interesting and spiced up the mood of the photographs.
Thank you Koh Yiaw again for spending half the day with us showing the two interesting places of Singapore, and also brought us for wonderful meals and coffee.
If you would love to visit the two places, just Google Map and search for Marina Barrage or Gardens by the Bay. The places are reachable with public transport including MRT.
They are next to each other and the admission is free for Marina Barrage and ticket is required on certain areas of Gardens by the Bay. Visit of the outdoor gardens and the Big Trees is however free.