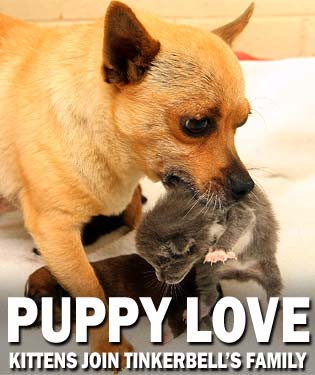 DOGS and cats are traditionally sworn backyard enemies — but not Tinkerbell the chihuahua.
She has not only let three newborn kittens on to her turf, she has adopted them and is protecting the kittens with as much gusto as she is her own four pups.
Tinkerbell went into labour last week and had a caesarean birth at the Hobart Animal Hospital after experiencing problems.
While her owner Angie Reynolds, of Mornington, was at Tinkerbell's bedside, a man came into the hospital with three cold and hungry newborn kittens.
After learning the kittens would most likely be put down, Ms Reynolds decided she would take them home and hand-rear the cats until they were old enough to go to new homes.
"When we got home, I put the kittens with the dog to see if she accepted them," Ms Reynolds said.
"Not only has Tinkerbell accepted them, she cleans and snuggles the kittens and gets frantic if I pick one up." 
Ms Reynolds plans to offer the kittens for adoption and offer her four purebred puppies for sale when the unusual litter has found its collective feet.
"Mother and all her babies are doing well," she said.
HELEN KEMPTON, January 27, 2010 08:22am
[source: http://www.themercury.com.au/article/2010/01/27/124225_todays-news.html]