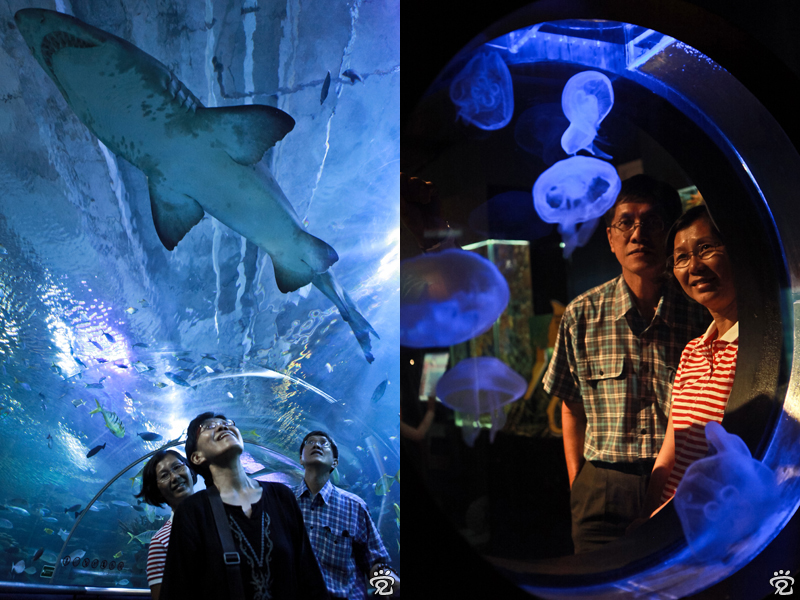 On the last day of September, I spent a wonderful time to the Aquaria KLCC with my parents and aunt Peggy. It had been ages since I last went for a trip with parents so it made this trip so much fun and memorable.
In the morning, we traveled north from Melaka reached our destination, Kuala Lumpur in the afternoon. The Aquaria KLCC is in KLCC certainly. It is a decent size, seemed very clean and well run aquarium. It costs us (for Malaysian citizen) RM35 per adult and RM25 for senior citizen.
The entrance of the aquarium is at upper level and we were first greeted by the furious piranhas. There was a touch pool just next to the piranhas' tank where we could touch and feel the crabs, starfish and gentle bamboo shark. We also observed creatures which defend themselves by discharging electricity such as the electric eel, catfish etc. followed by the stream mammals like giant water rat and otter. Then we came to the reptiles, amphibians and insects zone which we saw little crocs, big gecko, colorful yet poisonous frogs, beautiful butterflies' specimens, venomous spiders etc.
We then walked down the steps to the lower level of the aquarium and first saw a big tube tank ensconces an ancient tree and fishes. This was the section of the fresh water fishes including giant catfishes and huge Arapaimas which live in the nutrient-rich waters of Amazon.
Our tour continued to the 90 meter transparent underwater tunnel. While enjoying the tranquil atmosphere beneath the depths of open water, we walked along the tunnel 'together' with Sand Tiger Sharks, eels, giant stingrays, green turtles, and various kinds of schooling fish. We too arrived just in time for the feeding frenzy where scuba divers were in the tank feeding and interacting with the fishes. The show was simply amazing.
Before we exited the aquarium we had the chance to observe the cute little seahorses, mysterious jellyfishes, and beautiful yet sadly endangered corals. More and more coral reefs over the world have been hit by coral bleaching resulting from global warming, when corals lose their color. Soon or later, we will not be able to see beautiful underwater scenery. So it's our duty to love and care for the environment for a better tomorrow.
Well, the Aquaria KLCC is definitely a worth going place to go in KL especially with family. Before we headed back to Melaka at night, we went to the Look Out Point or also known as Little Genting in Ampang Hill for a dinner with Ah Too and Chin-Sing. The food of the restaurant we picked was OK as in acceptable, however the night scenery of KL was just stunning!
Thanks to my parents, aunt, Ah Too and Chin-Sing for making this trip so unforgetable. I had a really good time and am looking forward for another trip in the near future.
May all beings be happy. Sharing some shots I captured of the trip: