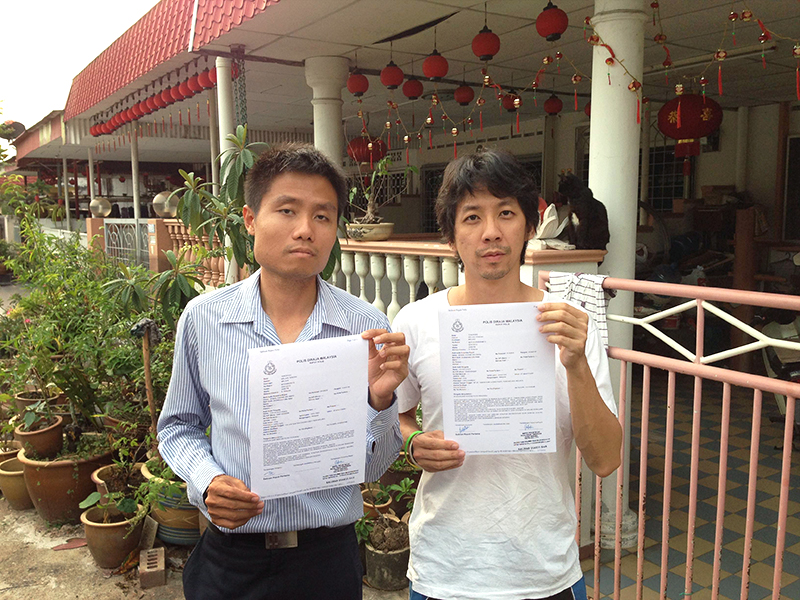 We just lodged police reports on the 2th July 2013 at the Balai Polis Tengkera Melaka, in hoping that justice will be done for the rape-murder of Chee Gaik Yap.
Seven years ago, Chee Gaik Yap, a marketing executive and Universiti Utara Malaysia graduate, was believed to have been tailed by her assailant while jogging in the neighbourhood of Taman Ria Jaya in Sungai Petani.
She was kidnapped, raped and killed before her body was dumped at the housing estate.
The suspect was arrested and released on police bail, he then fled to Australia for six years to escape investigations. He was ambushed and detained at the KLIA upon returning to Malaysia last year.
He was charged for murder (not rape!?). Few days ago, the suspect was acquitted and walked out from the court as a free man, as the victim's grieved father attempted to jump off the court building after the ruling. Luckily the pressmen managed to stop him.
It was confirmed that his semen was an evidence after he was arrested.
Why can't he be convicted even though there's evidence (the suspect's semen)?
Why was he charged with only murder but not for rape?
Our lodging of police report was relatively easy and it took us only 30 minutes. The front desk officers of Balai Polis Tengkera Melaka was being very helpful.
In our reports, we demand Polis Diraja Malaysia to take further action into the investigation:
Saya hendak Polis Diraja Malaysia
(a) Menyiasat adakah Chee Gaik Yap dirogol oleh suspek Shahril Jaafar.
(b) Menyiasat siapakah orang ketiga di mana air maninya juga dijumpai di dalam kemaluan Chee Gaik Yap.
(c) Menyiasat adakah Chee Gaik Yap diseksa ataupun dicederakan oleh suspek Shahril Jaafar dan sekumpulan orang sampai mati.
(d) Mengambil tindakan yang sewajarnya dengan segera.
Make your police report, it can be done in any police station at anytime, and send a copy to reportcheegaikyap@gmail.com to draw more awareness.
Get more info from https://www.facebook.com/JusticeForCGY
We hope justice could be done.
– by jason and cj