Tag Archives:
happy birthday
不知不觉又过一年
我们的路也越来越远
踏起了新的旅途
外面的世界是什么样?
第二个生日没为你下厨做菜了
谁还记得当时的那些味道
彼此的回忆是最甜美的礼物
谁却还有勇气再度打开
日记再也没有自己
只有页页的祝福
自己也变成了知己
已忘了那孤单的感觉
不想再看到你伤心流泪
所以选择了黯然消声
如果知道你落泪无助时
影子中会有天使守护
守着给过的承诺
才能拉近了两人的距离
路纵然崎岖
也要牵着你的手走到最后
默祝 生日快乐
Time flies and it has come to a new month. August and September are very special months for many whom I love.
It's you, you, you and your birthday! Happy birthday to my dad and mom, sister Fo-Xing, Murphy, Kok-Liang, Cinda, Gao-Siang, Lawrence, Andrew Khor, someonEE special and others who also having their birthday in these two months. We're all one year closer to growing old together and growing better. When you were born, you cried and the world rejoiced; live your life so that when you die, the world cries and you rejoice. 
What's more, the true happiness comes to a house with the first cry of a newborn baby. And we have double in these two months! Congratulation to Mark and Chai-Har of delivering your first baby, Khim-Zern, and to Murphy and Ann of having your second child, Valerie. Khim-Zern and Valerie are gifts not only to the parents but to all of us. Let the life of your daughter and son will be sunny and bright. As for yours, now it will be much more interesting and colourful.
Sharing some took within these two months and these were all taken in my hometown Melaka. May you find serenity here in juesatta.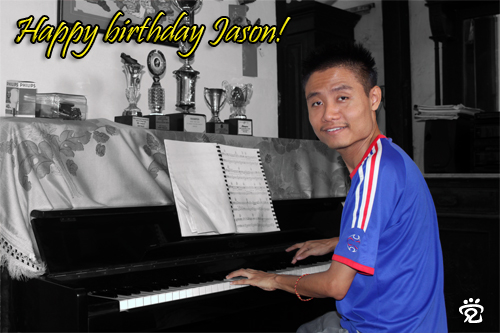 I would like to wish my best friend and also juesatta pianist Jason Tan happy birthday. Jason, here's to another year of experience; you are not just a year older, but a year better and wiser. Hope your birthday blossoms into lots of dreams come true.
A flash back on Jason's recent song-play of the famous Teresa Teng's Chinese song, Yue Liang Dai Biao Wo De Xin (The moon represents my heart) which dedicated to all the loving couples.