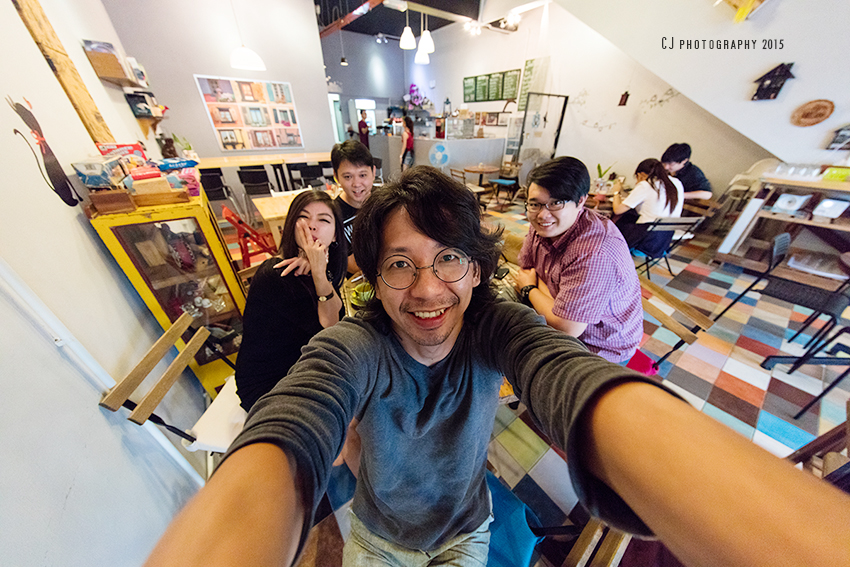 They are in Melaka: Canon EOS 5DS R camera and EF 11-24mm f/4L USM lens.
Last Friday I and good friends, Kenn Wai and CW Tay were invited by Ms. Vna from Canon Malaysia to do a test and review on Canon latest flagship DSLR camera, EOS 5DS R and new ultra-wide angle lens, EF 11-24mm f/4L USM.
We met up at a new cafe, Hideout Coffee just across the road from our studio. We had the review over coffee with Vna. She had this session arranged for the three of us with yummy latte.
This new full-frame Canon camera features 50.6MP CMOS Sensor with dual DIGIC 6 image processors. I will skip the specification part which is available over Google.
I did a few shots of the cafe, testing the grip, focus, quality of the output, shooting in full Raw which is about 50MB of size per image, and tested the new EF 11-24mm f/4L USM lens. It feels like Canon 5D Mark III.
The uncle at Hideout Coffee was kind. Knowing that we are wedding photographers and doing some test shoot, he helped us to switch on the all the lights of the cafe, and asked us if we required anything to shoot inside. In addition, the barista serves nice coffee.
This ultra-wide angle lens is truly amazing.
Capturing at 11mm however shots were less distorted, out of my anticipation of a ultra-wide angle lens. It was 'Wow' to all of us how wide it could cover at 11mm. Despite shooting at f/4 widest aperture with low shutter speed, we needed nothing to worry about minor hand-shake. The advantage of its super wide focal length at 11mm could compensate the minor effect of handshake.
Being one of the widest lenses available now with much lesser distortion and provides super-sharp images, the Canon EF 11-24mm f/4L USM lens is a magnificent lens for landscape and architecture photography. Added to my wish list 🙂
Since the test was done with ambient and objects in the cafe, I then requested Vna to be my model so that I could test the quality of skin tone it captures, comparing to 5D mark II which I am using. Reluctantly yet kind Vna agreed.
With Canon EF 70-200mm f/2.8L IS II USM lens mounted to 5DS R, I captured Vna with mainly windows light and ambient of the cafe. Then switched to 5D Mark II with Sigma's 50mm f/1.4 EX DG HSM, captured Vna again with her precious 5DS R.
Comparing the shots taken with these two system, even with different lens, both cameras captured skin tone with obvious differences. 5DS R delivered a more contrast and color rich tone, compared to 5D Mark II which gave a more pinky and soft skin tone.
With its gigantic megapixels resolution and superb sharpness performance I read online, I requested to do some test at our studio. Vna again agreed to be our model.
CW Tay had a shooting session going and couldn't join us. Before he left we captured a big family photo (image on the top of post). At 11mm ultra wide focal length, we could probably capture the whole cafe-full crowd.
So we headed to our studio, Craftify Studio.
Four strobes were setup to photograph Vna who visited our studio for the first time. Kenn Wai helped with the lights while I briefed Vna on the pose. Using Canon 5DS R camera with Canon EF 70-200mm f/2.8L IS II USM, we did two postures: half-body and full-body, making the half-body one a formal shot and full-body a fun shot. Vna later described the latter as shopaholic pose. Sniff. Sniff.
The new Canon EOS 5DS R camera is a great camera for studio photography, especially the sharpness surprised us. Ultra-large megapixels however requires extra work and time for the post processing, as minor retouch will make a big difference visually.
It is a pricey camera however, for photographers who specialize in studio shooting and commercial photography, 5DS R is a good camera to have in arsenal with its large megapixels and sharpness performance. We have yet tested the 5DS R to its full capability and new features. We hope to have more time to review again in near future.
Big thanks to Vna and Canon Malaysia giving us this opportunity to try out this stunning full-frame camera.
May all bEE happy 🙂
Some images of Canon EOS 5DS R and Canon EF 11-24mm f/4L USM taken at Hideout Coffee over the session: