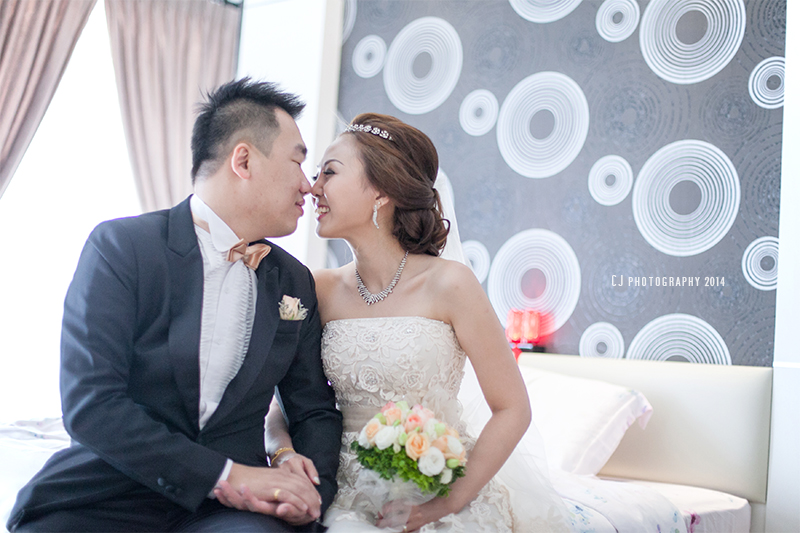 Brendon, King and I were pleased to meet Eva & Bryan, and photographed their wonderful wedding in the final quarter of last year.
There are so much to tell about Eva and Bryan two lovely couple from Melaka. We have something in common, as Eva and Bryan are outdoor lover especially for the beach, sunshine, and scuba diving.
Eva was dressed up in a beautiful gown and golden heels in the morning waiting for her man to come for a crazy gate crush session. The playful bridesmaids must have brainstorming the night before for the games which took the groomsmen quite some time to complete them so that Bryan could enter the room and gave the lovely bride a kiss to last a lifetime.
Luncheon reception was held the next day at Equatorial Hotel Melaka. It was sweet and full of romance when the couple marched in after a saxophone lead. A photobooth was also setup near the entrance allowing family and friends to have fun shots together throughout the reception.
There was something really heartbreaking to me and to couple and family, when knowing the passing of Bryan's beloved father weeks before the wedding. It was an unfortunate timing however Bryan had his family' support.
Although they missed dad so much, they honored the his memory and carried the wedding ceremony as planned. Lots of hugs and tears happened during the wedding showing the great support and encouragement from family and friends. The moments were emotional yet touching.
We had a great wedding shoot time with Eva and Bryan, and thank you again for having us on your special day. Congratulation on your happy wedding and may you find peace, faith and love in each other's arms. May all bEE happy.
Celebrating Eva & Bryan
Location : Melaka
Photography : CJ, Brendon and King
Videography : D-Shutter Production
Make up and hairdo : M Nicole (Maggie Ong and Qiao-Yi)
Reception : Equatorial Hotel Melaka