Tag Archives:
kampung jawa
Wishing everyone a happy new year! May the year 2014 fill your life with serenity, peace and happiness!
May all beings bEE happy.
好久没有打中文字了。上个星期,难得比较得空,便与妈妈到Kampung Jawa吃潮州粥。这两个月,都吃了很多的潮州粥。可以说,平均一个星期吃一次。
那天吃了之后,妈妈说想买些布料,缝件裤子给妹妹。我们便到Jalan Kampung Pantai一间历史悠久的布料店。恰好想拍些Kampung Jawa的街景,便带了相机,想想何不拍些布料店的照片?
下了车,进了布料店,发现这件布料店和里面的装潢都很旧,历史也许比我的年龄还长。最引我注目的是,店后墙上挂有一张刑福兴老师的挥春墨迹:一家欢笑春风暖,四季平安淑景新。好不温馨!
问了老板,原来老板和福兴老师研究过书法。福兴老师是孔教会的书法老师,写的字总是那么的洒脱,看了很舒服。想想:我也好久没见到福兴老师了。
布料店后面的窗外就是马六甲河了,再看看窗边挂着的福兴老师的挥春、上面古老的时钟、右边的鲤鱼图、左边春字帖、加上一个传统日历,还真有春天的气息。顿时,让我想起了以前婆婆的家,也有那么个气氛。人说:这种睹物思旧的心情是"物是人非事事休,欲语泪先流。"
妈妈和店老板与老板娘聊了一会儿,才知道老板与老板娘都认识我的婆婆。其实也不奇怪。以前婆婆的家离这间店不远,而且街坊们都认识婆婆和她亲切的笑容。最近,我也见到了认识婆婆的人,都说婆婆是个慈祥的老太太。
妈妈选了些合适的黑布料,我也要求说想有件运动裤,希望妈妈能做一件送给我。她答应了,便多买些布料,然后打道回府了。
好久没有和妈妈这么出来了。才知道,当时身为游子的我,离家那么多年都没有好好照顾妈妈。现在回到家了,更应该多陪伴身边的家人。
看见妈妈选布料时,手上的皱纹如层层的布料,多么的感叹。。。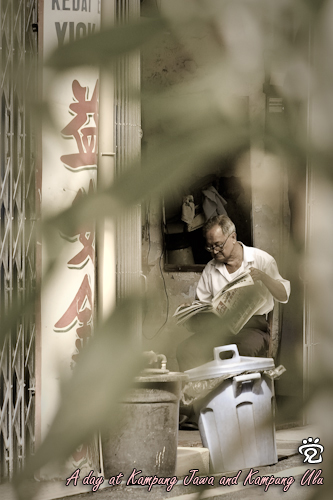 Days ago, Dylan Low (the last photo in this post) and I went for a shooting at Kampung Jawa and Kampung Hulu in Melaka. It was drizzling when we arrived, however we didn't give up on our plan. Fortunately the weather turned out alright after some time of shooting.
Decades ago, Kampung Jawa and Kampung Hulu were considered few of the hottest spots in Melaka. Long before Mahkota Parade and Jusco were built, most Malaccan would do their shopping for things like shoes, clothing, dried seafood, groceries, or even a cheap haircut there. Besides, delicious multiracial food like rojak, wantan noodle, fishball noodle, cendol, etc. could be found there.
One of the reasons Dylan and I chose to go there was, we would see craftsmen like goldsmith, blacksmith, carpenter, sculptor, cobbler, tailor, etc. These craftsmen at Kampung Jawa and Kampung Hulu were really good and skilful in their profession, and sad to say that they were mostly senior citizens. Younger generation would not treasure these traditional handicrafts nowadays.
These are some of the shots I took: