Tag Archives:
klcc
During an event photography coverage at the Grand Hyatt Hotel KL, the guests were invited to the Malaysian Petroleum Club Restaurant of KLCC for dinner. Most of guests were from overseas and thus they were too invited to to tour the Sky Bridge linked the two towers for the evening KL's view before meal.
Guests were divided in few groups to access to the Sky Bridge, and we as the event photographers had to stand by at the bridge for each group's visit. We were glad that we could stay longer at the bridge and enjoy the magnificent view of KL's evening from the 42nd floor. Our lovely first experience!
May all bEE happy! 🙂
Hundreds of millions of people, businesses and governments around the world unite each year to support the largest environmental event in history – Earth Hour.
More than 5,200 cities and towns in 135 countries worldwide switched off their lights for Earth Hour 2011 alone, sending a powerful message for action on climate change. It also ushered in a new era with members going Beyond the Hour to commit to lasting action for the planet. Without a doubt, it's shown how great things can be achieved when people come together for a common cause.
On Earth Hour hundreds of millions of people, organizations, corporations and governments will come together to make a bold statement about their concern for climate change by doing something quite simple—turning off their lights for one hour. Earth Hour symbolizes that by working together, each of us can have a positive impact in the fight against climate change, protecting our future and that of future generations.
Set Your Clock 

On March 31st at 8:30 p.m. local time, Earth Hour will cascade around the globe—from time zone to time zone—uniting the planet under a single, simple, call to action.
How does climate change occur?
A continuous flow of energy from the sun heats the Earth. Naturally occurring gases in the atmosphere, known as greenhouse gases, trap this heat like a blanket, keeping the Earth at an average of 15 degrees Celsius – warm enough to sustain life. Carbon dioxide (CO2) is the most significant of these gases. The amount of naturally produced CO2 is almost perfectly balanced by the amount naturally removed through photosynthesis and its dissolution in oceans. However, the overuse of fossil fuels is leading to increased CO2 in the atmosphere, trapping more and more heat and warming the Earth.
As a result, we're seeing more dramatic weather patterns across the globe. 
The effects of Earth's changing weather not only causes devastating natural disasters but shrinking of the world's ice shelves and glaciers due to warming sea water. Because ice acts as a solar reflector, the less ice there is, the less heat the Earth reflects.
Did you know? A bicycle is a marvel of engineering efficiency, one where an investment in 22 pounds of metal and rubber boosts the efficiency of an individual mobility by a factor of three (Lester Brown, EPI)
Did you know? It takes 200 litres of water to produce one latte.
Did you know? 78% of agricultural land is used for livestock production.
[source: www.earthhour.org]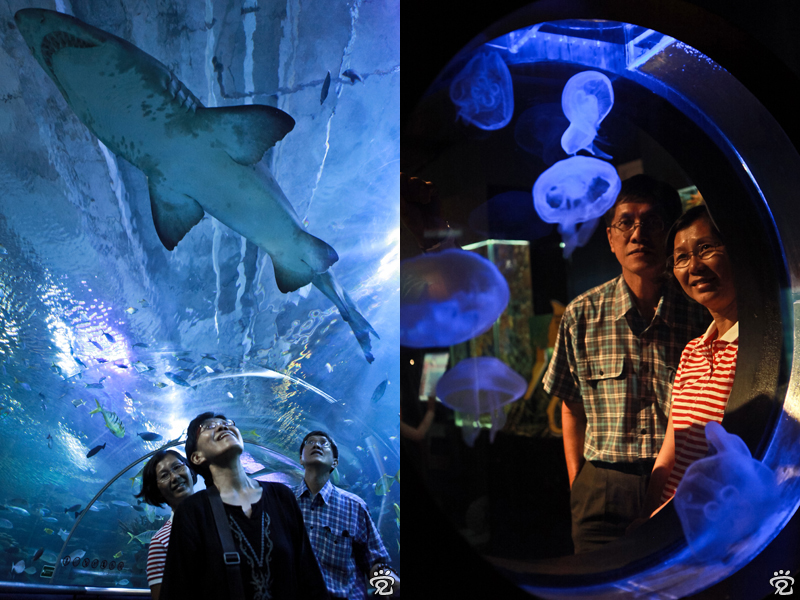 On the last day of September, I spent a wonderful time to the Aquaria KLCC with my parents and aunt Peggy. It had been ages since I last went for a trip with parents so it made this trip so much fun and memorable.
In the morning, we traveled north from Melaka reached our destination, Kuala Lumpur in the afternoon. The Aquaria KLCC is in KLCC certainly. It is a decent size, seemed very clean and well run aquarium. It costs us (for Malaysian citizen) RM35 per adult and RM25 for senior citizen.
The entrance of the aquarium is at upper level and we were first greeted by the furious piranhas. There was a touch pool just next to the piranhas' tank where we could touch and feel the crabs, starfish and gentle bamboo shark. We also observed creatures which defend themselves by discharging electricity such as the electric eel, catfish etc. followed by the stream mammals like giant water rat and otter. Then we came to the reptiles, amphibians and insects zone which we saw little crocs, big gecko, colorful yet poisonous frogs, beautiful butterflies' specimens, venomous spiders etc.
We then walked down the steps to the lower level of the aquarium and first saw a big tube tank ensconces an ancient tree and fishes. This was the section of the fresh water fishes including giant catfishes and huge Arapaimas which live in the nutrient-rich waters of Amazon.
Our tour continued to the 90 meter transparent underwater tunnel. While enjoying the tranquil atmosphere beneath the depths of open water, we walked along the tunnel 'together' with Sand Tiger Sharks, eels, giant stingrays, green turtles, and various kinds of schooling fish. We too arrived just in time for the feeding frenzy where scuba divers were in the tank feeding and interacting with the fishes. The show was simply amazing.
Before we exited the aquarium we had the chance to observe the cute little seahorses, mysterious jellyfishes, and beautiful yet sadly endangered corals. More and more coral reefs over the world have been hit by coral bleaching resulting from global warming, when corals lose their color. Soon or later, we will not be able to see beautiful underwater scenery. So it's our duty to love and care for the environment for a better tomorrow.
Well, the Aquaria KLCC is definitely a worth going place to go in KL especially with family. Before we headed back to Melaka at night, we went to the Look Out Point or also known as Little Genting in Ampang Hill for a dinner with Ah Too and Chin-Sing. The food of the restaurant we picked was OK as in acceptable, however the night scenery of KL was just stunning!
Thanks to my parents, aunt, Ah Too and Chin-Sing for making this trip so unforgetable. I had a really good time and am looking forward for another trip in the near future.
May all beings be happy. Sharing some shots I captured of the trip: